The DB "Royale" double truffle burger $120
Celebrity chef Daniel Bouloud gave this all-American dish a fancy French makeover and a couture price tag. His version of the classic ground beef burger is stuffed with red wine-braised short ribs (off the bone), foie gras, a mix of root vegetables and preserved black truffle. Hold the ketchup though, the pièce de résistance is a double helping of fresh black truffles on top.
This burger, if you can call it that, is served on a homemade toasted parmesan and poppy seed bun with a touch of fresh horseradish, oven roasted tomato confit, fresh tomato, red onions and frisée lettuce. And, of course it comes with a side of French fries -- or pillows of pommes soufflé if you prefer.
Foodies should note that the Royale is only served at DB Bistro Moderne in New York City and at the Daniel Boulud Brasserie in Las Vegas during the black truffle season, which usually runs from late December through the end of March.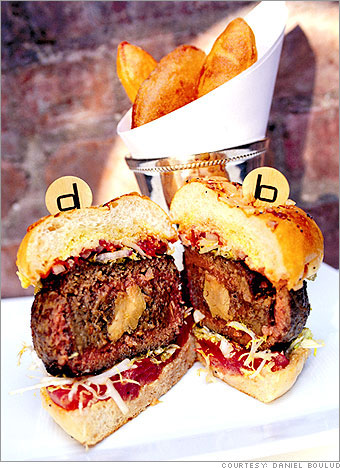 Macaroni and cheese with white truffles $95
Kraft may be the cheesiest, but the macaroni and cheese at LA's Mélisse restaurant is definitely the priciest. That's because chef Josiah Citrin spares no expense grating a hefty portion of white truffles over his fresh tagliatelle, smothered in parmesan cheese and brown butter truffle froth.
This glorified version of the kids classic can't be found on the children's menu, or among the restaurant's standard fare for that matter. Mélisse only makes it available during the white truffle season, which is October through December.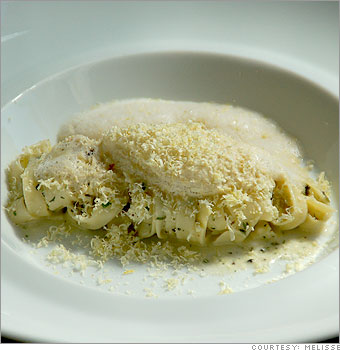 Golden Opulence sundae $1,000
First dates looking to impress or sweet-sixteens in search of something special strike gold, quite literally, at Serendipity 3, the legendary New York City eatery where celebs are often spotted. The restaurant's golden opulence sundae is covered in 23-carat edible gold leaf and is also rich in flavor thanks to Tahitian vanilla ice cream infused with Madagascar vanilla beans and chunks of rare Chuao chocolate from Venezuela.
In lieu of Hershey's syrup and a maraschino cherry, this sundae is drizzled with one of the world's most expensive chocolates, from Amedei Porcelana, and then adorned with candied fruits, gold covered almonds, chocolate truffles and marzipan cherries.
The dish also features a dollop of sweet Grande Passion caviar served with a mother of pearl spoon and a gilded sugar flower. The whole shebang looks as good as it tastes, served in a Baccarat crystal goblet (yours to keep) with an 18-carat gold spoon (not included).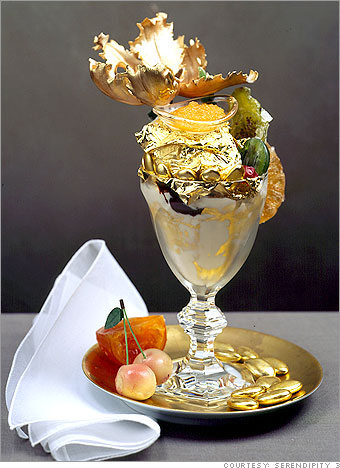 Philly cheesesteak $100
It may not end the war between Geno's and Pat's but cheesesteak lovers will want to sample another local favorite, from the Philadelphia steakhouse Barclay Prime. In this upscale take on the classic, Kobe beef is substituted for top-round chuck and accompanied with butter poached lobster and shaved French black truffles.
As for the cheese, or "whiz wit," as they say in Philadelphia, that's melted Taleggio imported from Italy, a far cry from the standard provolone. The sandwich is served on a homemade brioche bun finished with house-made mustard, along with a small bottle of Veuve Clicquot champagne.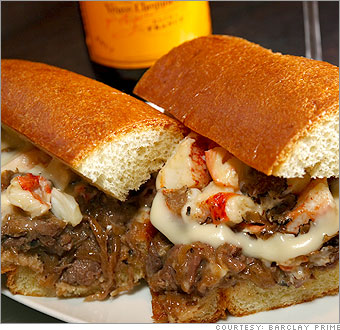 Nino's pizza with caviar $1,000
There's no pepperoni or mushrooms (not even of the truffle variety) on the world's most expensive pizza, but this personal 12-inch pie is topped with four different types of caviar, including black Russian Royal Sevruga, as well as thinly sliced lobster tail, creme fraiche and chives.
New York City restaurant owner Nino Selimaj began proffering this slice of heaven at his Italian namesake restaurant six months ago, and has since sold several of them at his Upper East Side establishment. Be sure to call ahead if you want to try one too.